Blue Force Tracking
Unique IoT platform improves support for police officers and stewards
Matches featuring premier league football club Ajax and the national team, concerts, festivals and manifestations attract huge numbers of people to the Johan Cruijff ArenA stadium. To contribute to the safety of the accompanying policemen and stewards, Nalta.com created Blue Force Tracking; a unique IoT platform based on Dell Boomi Technology.
The story
Innovation makes the difference
The Johan Cruijff ArenA stadium welcomes more than two million visitors each year. The stadium has 54,640 seats, 144 seats for people with disabilities and people accompanying them and 15 escalators to bring visitors safely and quickly to the first and second ring.

The Johan Cruijff ArenA facilitates high-profile football matches, spectacular concerts and great corporate events. The stadium also wants to lead the way when it comes to fan experience, mobility, safety, sustainability, facility management and digitalization. Innovation makes the difference. Blue Force Tracking fits in seamlessly with this.
The case
Data-driven security
The National Police force, the municipality of Amsterdam and the Johan Cruijff Arena chose Blue Force Tracking (BFT) to improve safety in public places and support of police officers and stewards. BFT ensures that support services are alerted very quickly in case of an incident and that real-time video images are immediately available. BFT also provides insight into where employees are located in dangerous situations. This brings data-driven safety a step closer.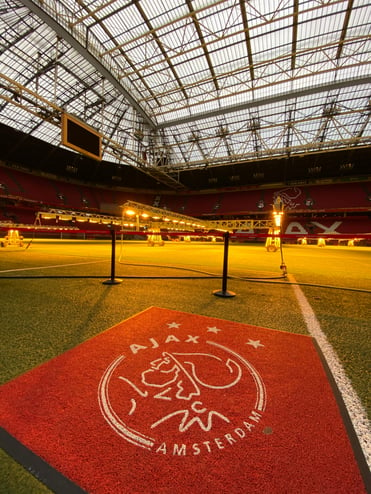 Solution
Lightning-fast analysis
A unique feature of the Blue Force Tracking IoT platform is the automated - and therefore lightning-fast - way in which (surveillance) camera images are analyzed. BFT's smart technology uses these images to send cues. In addition, it uses IoT sensors integrated into security guards' work wear. The combination of technologies makes it possible to very quickly determine whether an individual is in need of help - without requiring manual intervention.
Starting points
The scalable platform Nalta wanted to create had to excel at super fast, reliable and secure integration of various technological solutions. That is why the Nalta professionals chose Boom Technology as the platform's heart. Intensive cooperation took place between the three stakeholders: the Johan Cruijff ArenA, the municipality of Amsterdam and the National Police force. Securitas (technical security partner), Genetec (camera security) and EquiVital (sensors) also made important contributions to this innovative project.

Close cooperation between the various parties and the specific advantages of Boomi Technology ensured that Blue Force Tracking could be developed from scratch in just seven months.
Results
Innovative IoT platform for increasing safety
Scalable solution (up to 100,000 security personnel)
Easy to deploy at other locations
Seamless integration with all security systems
Have we inspired you?
Let's discuss your challenges!