Blog: The Platform, episode 1 Planet Data
'Prepare for the intelligent future'
The Platform explores one specific topic in four podcasts and blog posts; valuable content, served as a bite size snacks. We kick off with "Prepare for the intelligent future", a subject that many companies (should) be working on. What is data and how does it advance a company? During the podcasts, Mike Veldhuis of Nalta and Michael J. Morton, VP of Dell Technologies Strategy & Development, go in search of answers together. Episode 1: Planet Data.

Creating data, even when you sleep
The term "data" is abstract. Anyone familiar with the Star Trek TV series will know Data as "all universal knowledge" bundled and personalized in an android. A humanization of data. The term Planet Data does something similar; to indicate the size of data worldwide on a human scale, so that everyone understands it. Moreover, it makes people aware. Every day, data is created by and about individuals and companies, from the moment of waking up to going to sleep and even then, data is still being created. Every device with an internet connection collects data. From obvious devices such as your mobile and your laptop to the Internet of Things; refrigerators, thermostats, GPS systems and your Apple Watch.
Overwhelming

Even during your sleep. For example, those who wear an Apple Watch to check their sleep rhythm also collect data at night. And that while the Apple Watch has not even been around for that long. In a few years, the device has become fully integrated into our society. We take it for granted. All these developments are going very fast. However, the amount and complexity of data and the speed with which technological developments take place can be overwhelming. In terms of the amount of data and sources, but also rules and legislation, and there are concerns about privacy. The main question: is how do we, as individuals and as a company, get value from all that data? In other words, what good is it for us and does the data you have also change the choices you make and the decisions you make?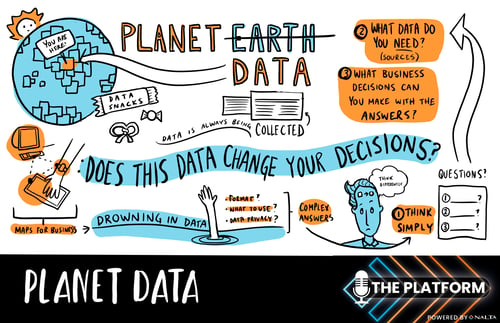 Only ask questions that are essential to your business

Most companies have no idea how much data really is there. In order to get a grip on this and to become aware of it, we like to make something that is complex understandable and insightful. An effective way to do this is to ask yourself a few questions. Provided that no one has all the answers, it is essential that you look from your company to which questions you want to see answered specifically for your company. Incidentally, nobody immediately finds the right answers. Learning to understand data and answer specific questions about it is a learning process. Therefore, start with a top 3 of questions that are essential for your company and stick to them throughout the entire process.

Write down the questions and discuss them internally. Think of it as the start of a journey. The next question you ask is; what data do you really need for your company to be successful? At a certain point you have your data, the sources with which you create the data and answers to your questions. So the last question is; what do these answers mean for your business? Maybe you will make other choices? Do you make other decisions? Does it change your mindset?
Food for thought.Next time we will discuss which parts are essential for the digital foundation of your company.

Would you like to listen to the podcast? You can find the first episode here.